Disclaimers
The content on this site is for educational purposes and is not a substitute for advice from a licensed health-care professional.

You should not rely solely on this content, and Naturalz, Skin Care Solutions LLC,  & Natural Roots Academy assumes no liability for inaccuracies.
When purchasing our products, always read labels, website and directions before using a product.

Statements regarding our natural products have not been evaluated by the FDA, and these products are not intended to diagnose, treat, cure, or prevent any disease or condition.

ALWAYS DO A PATCH TEST FIRST!!!!
We recommend that all customers do a patch test before use, to ensure no allergies exist to our products.
A patch test means you test the product on your hand or forearm and wait 24-48 hours to see if you experience a reaction.
If you experience any irritation, STOP USE IMMEDIATELY!!!!!

**Naturalz, Skin Care Solutions LLC, & Natural Roots Academy will not be held responsible if irritations/breakouts occur.**

***IF YOU ARE PREGNANT PLEASE CONSULT WITH YOUR DOCTOR BEFORE USING OUR PRODUCTS.

Allergy Statement:

The following safety guidelines should be observed before using Naturalz Body Care products:

Our products contain oils and butters from natural nuts, seeds, fruits, flowers, roots, stems, and leaves. If you have any allergies, please read the product label carefully. We recommend that people with sensitive skin perform a patch test first to ensure there is no reaction.

Naturalz products are made with natural, organic ingredients. If you experience sensitivity, discontinue use immediately.

We store a variety of nut and seed related items within our facility and may come in contact with your product.
Please inform us if you have a nut allergy.
We cannot guarantee that the manufacturer's who we receive our ingredients from don't  have cross-contaminination with nuts & seeds in their facility.
We do stock other nut based oils.
If you have any questions or concerns please contact us: missjaynatural@gmail.com 
As a parent to a child with tree nut &  peanut allergy, please do your research. The way pure peanut oil is made allows some with peanut allergy to use and consume. Popular restaurant chain uses nut oils and there have been no interactions. 
My daughter also uses almond oil, coconut oil, & shea butter without reaction. This is only our experience. You may have different reactions. Please take caution with all allergies.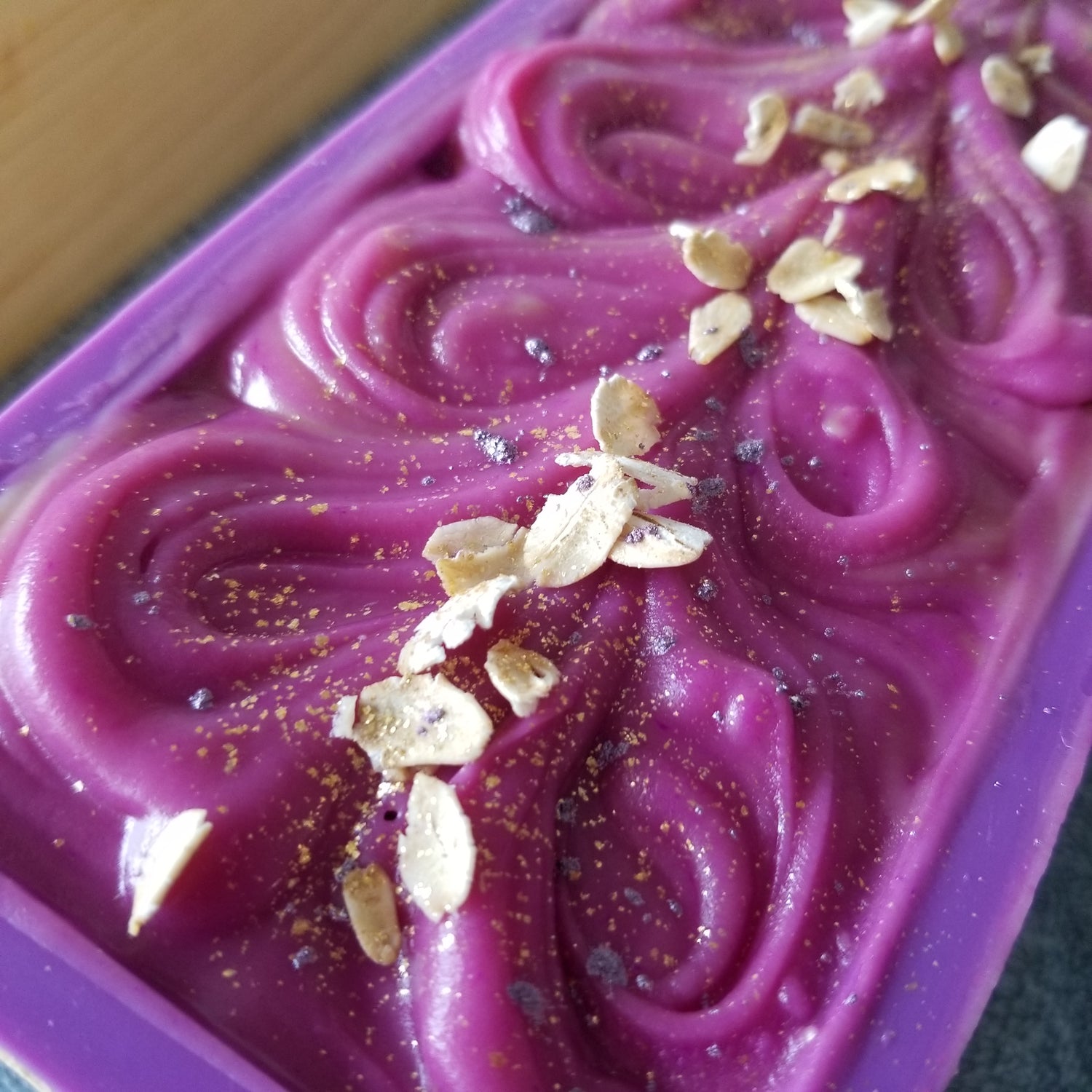 2022 About our Cold Process Soap
All of our soaps are cut by hand and 100% all natural. They are made with coconut, olive oils, and other natural, skin nourishing oils. Our soaps are great to use on your hands, face, and body.

They don't contain sulfates, parabens, detergents, dyes, or toxic fragrances.
Our soaps are handmade in North Carolina with all natural ingredients for a luxurious bathing experience.

WHY ARE COLD PROCESSED SOAPS BETTER:
Most commercial soaps are stripped of the naturally occuring glycerin, and it's used in other cosmetic products as a necessity due to the skin becoming extremely dry from cleansing with detergents and no glycerin.
Cold processed soaps are made from a saponification process which produces glycerin. This old fashion tradition provides natural oils for the skin. You are nourishing your skin while you cleanse.

HOW ARE CP SOAPS MADE:
Cold Processed soaps are made in a traditional method that produces a natural, gentle soap. Oils are combined with lye & water. This process is called Saponification where the oil and lye molecules combine to make soap. We make all of our soaps with at least a 5% superfat content. This means that 5% or more of the natural oils remain in the soap nourishing your skin and 0% of lye. The result is a rich, bubbly lather and an all natural pure soap that nourishes your skin. Our cold process soaps are great for oily skin, dry skin, or irritated skin from acne or eczema.
Thank you for your support. Please browse our products page for CP or Cold Process soaps to enjoy all the benefits of a pure soap.