---
Raw Foods & Vegetarian Meal Ideas
I looked up some other recipes and made adjustments. There are no measurements because you cater it to your own taste.
Guacamole recipe
Ripe avocados, Dash of Raw Apple cider vinegar, Fresh tomatoes chopped, Fresh chopped garlic, Fresh shredded cilantro and parsley, Cumin, Adobo, Fresh chopped red onions, key lime juice, Black and red pepper (or cayenne), Fresh chopped jalapeño peppers (or serrano chile), Habanero peppers, hot banana peppers, Fresh chopped chives, Himalayan Pink Sea salt
Lettuce Wraps with all raw veggies.
Add your favorites.
It's very filling and tasty. 
http://www.wikihow.com/Make-Black-Bean-Veggie-Burgers
http://chubbyvegetarian.blogspot.com/2011/12/vegetarian-meatloaf-garlic-mashed.html
Turn your favorite fruits and vegetables
into an all natural refreshing drink to go.
Blender recipe: strawberries, juice from grapes, apple
Juicer recipes:Try pineapple, grapefruit, orange
http://www.recipegirl.com/2007/02/06/mushroom-veggie-burgers/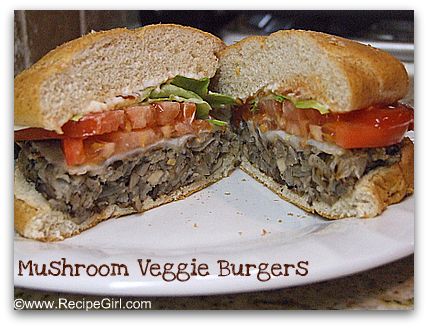 MUSHROOM VEGGIE BURGERS
1 Tbs olive oil
1½ cups moderately, finely chopped yellow onion (about 1 large onion)
3 small garlic cloves, finely minced
4 cups coarsely chopped portobello mushrooms (about 2 large mushrooms)
¼ tsp salt
1/8 tsp freshly ground black pepper
1 cup Italian-flavored breadcrumbs
2 large egg whites
buns and condiments of your choice
1. Heat olive oil in 12-inch nonstick skillet over moderately high heat for 1 minute. Add chopped onion and garlic and sauté, stirring occasionally, until limp and golden- about 3 minutes.
2. Add mushrooms and sauté, stirring now and then, until mushrooms soften and brown- about 4 minutes. Transfer mushroom mixture to a large bowl and cool 10 minutes.
3. Using wooden spoon, mix salt, pepper and bread crumbs into mushroom mixture. Add egg whites and mix thoroughly.
4. Scoop up mixture by ½-cup measure, then using hands, shape into four patties about ¾-inch-thick.
5. Wipe out skillet, spray with nonstick spray, and set over moderate heat. Add patties and brown about 3 minutes on each side.
6. Serve on buns and add desired condiments.
Servings: 4
Nutrition Facts
buns and condiments of your choice are not included in nutritional information
Amount Per Serving
Calories 300.
Calories From Fat (17%) 52
Total Fat 6.02g
Saturated Fat 1.01g
Cholesterol 0.30mg
Sodium 730.29mg
Potassium 2388.26mg
Carbohydrates 50.52g
Dietary Fiber 9.18g
Sugar 12.60g
Net Carbohydrates 41.34g
Protein 18.10g
WW Points 7.5
Recipe Source: Good Morning America's Cut the Calories Cookbook
 Replace your meat with mushrooms.
Portobello caps are great grilled for a sandwich, stuffed with veggies or any other tasty combination you can think of.
Stir fry with onions, peppers, artichokes and spinach!
Seeded grapes and cherries.  So tasty Breakfast and dessert.  Great detox and anti inflammatory blend. Red means blood cleanser. Flushes kidneys. The first thing in the morning consumed to break fast should be fresh, raw n seeded with lots of fiber. Internal Cleansing is easier on an empty stomach. The best detox is a clean raw vegan lifestyle. That's not easy for everyone to maintain. But substituting a meal or 2 for raw fruits or vegetables is a great start. It's very filling and satisfying.
Craving something sweet? sweets can be healthy too.  Farm fresh organic strawberries fresh pineapple spring water and juice from one key lime. Nothing else no added sugars. 
Tastes like heaven. Guilt free! Whole fruit. Good snacking. Better than strawberry ice cream
Boring lettuce wraps were so tastey. Raw cucumber.  mushrooms. bell pepper. with ginger dressing and #braggsliquidaminos added sauteed mushrooms later.
How much easier can it get. 3 zucchinis grated in less than 2 minutes. You can't make "regular " pasta noodles in that amount of time. This can be used as zoodles, to make fritters, vegan bread, etc. Water can be Squeezed out easily using cheese cloth. 
.
Eating healthier doesn't have to be complicated or expensive. Only prior research and planning required. Make it fun ! Get the whole family involved especially kids. 
Vegan vegetable alfredo. Veggie noodles. homemade walnut milk and nutritional yeast. 
Veggies: zucchini. mushrooms. onions. bell peppers. garlic. artichokes. stir fried in grapeseed oil